Issue 81 of Black Velvet Zine is out now and is the final printed issue of Black Velvet (before we go fully online!)

Interviews with The Summer Set, Halestorm, Chevelle, Delain, Toseland, Lit, Reachback, Lacey, Twister, My Favourite Runner Up and Everybody Looks Famous.

Concert reviews of Within Temptation, Richie Sambora, Lit and The Summer Set.

Jon Bon Jovi in Mexico.

2 page Slam Dunk Midlands Report.

Album, single and EP reviews such as Saliva, Chevelle, Seether, Reachback, Zoltar Speaks, Heavy Honey, The Cringe, Diaries Of A Hero, The Tripdown Project, MisterNothing, Matty James, Martyr De Mona, Fahran, My Favourite Runner Up, A New Day, Sevendaze and more

'A (Musical) Note From...' - Mitchel Emms of MisterNothing. Read a regular column which is written by a different musician every issue. In a band and want to write a column? Get in touch.

'Me, Me, Me & My Rock CV' - If you have a job in the music industry you get to tell us what you do and why you do it. This issue featuring metal DJ Emidio Vaz.

All the usuals such as DVD Reviews & Supersonic Future Superstars (this issue featuring Casino Thieves and Carson).
Get the final printed Black Velvet!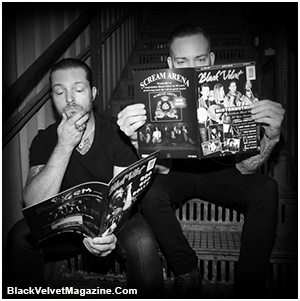 Above: Lit's Kevin Baldes and A.Jay Popoff with Black Velvet 79 & 80
ALL ARTICLES/REVIEWS ARE COPYRIGHT BLACK VELVET AND NOT TO BE USED IN ANY WAY BY ANYONE ELSE WITHOUT OUR WRITTEN PERMISSION.