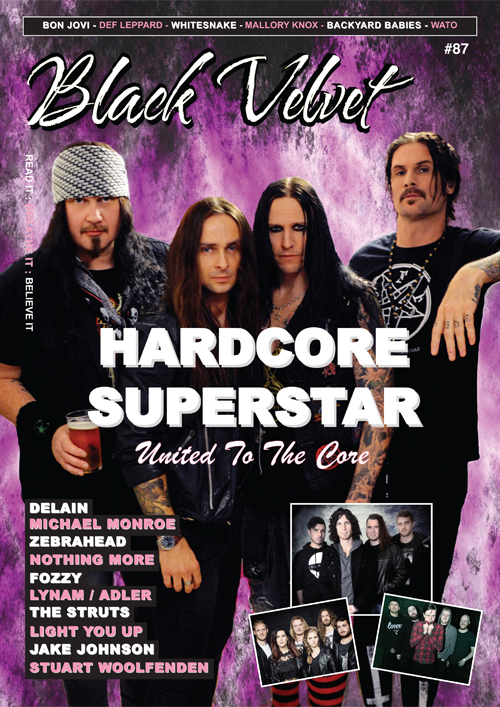 Issue 87 of Black Velvet is now available to read.
Click the above cover to read the digital issue in full for free.
Enjoy!
Black Velvet 87 includes:

Interviews with Hardcore Superstar, Delain, Michael Monroe, Zebrahead, Fozzy, Nothing More, Lynam/Adler, The Struts, Light You Up, Jake Johnson and Stuart Woolfenden.

Concert reviews of Bon Jovi, Def Leppard/Whitesnake, Mallory Knox, Backyard Babies, We Are The Ocean, Against The Current, Delain, Michael Monroe and more.

Column By CK Gillon (The King Lot).

Album, Single and EP reviews of Zebrahead, The Jokers, Escape The Fate, Sons Of Texas, Patent Pending, Devil Strip, DirtbagRepublic, Girlschool, Fearless Vampire Killers and more.

DVD Reviews of Twisted Sister, Black Veil Brides and Rage Against The Machine, Fansite Focus, BV CV and more.
Subscribe to Black Velvet on YouTube at www.youtube.com/blackvelvetmagazine
Below are a few of our interview clips on video.
Watch more on the Interviews page