BLACK VELVET ISSUE 94 ONLINE NOW!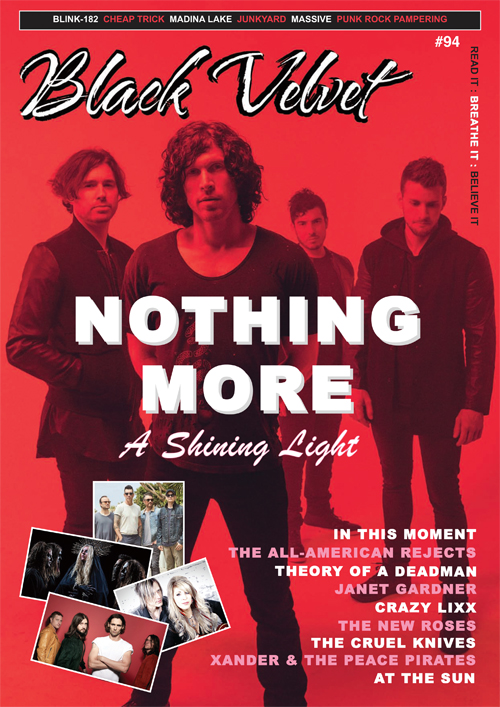 Issue 94 of Black Velvet is online now.
Click the above cover to read the digital issue in full for free.
Enjoy!
Black Velvet 94 includes:

Interviews with Nothing More, The All-American Rejects, In This Moment, Theory Of A Deadman, Janet Gardner, Crazy Lixx, The New Roses, The Cruel Knives, Xander & The Peace Pirates and AT THE SUN.

Concert reviews of Blink-182, Cheap Trick, Massive, Junkyard and The Cruel Knives.

Column by Matthew Leone of Madina Lake.

Album and EP reviews of Nothing More, In This Moment, Janet Gardner, Goldfinger, Theory Of A Deadman, All Tied Up, Devilfire, SKAM, Shaman's Harvest, Rex Brown, Jonny Lang, Makeout, Exit Eden, Mr. Big, Vitne, The New Roses, CJ Wildheart, The Warning, The Cruel Knives and more.

Punk Rock Pampering

Supersonic Future Superstar, Fansite Focus, BV CV and more.
Subscribe to Black Velvet on YouTube at www.youtube.com/blackvelvetmagazine
Below are a few of our interview clips on video.
Watch more on the Interviews page
Want to contribute to Black Velvet? Click here for more information.