BLACK VELVET ISSUE 92 ONLINE NOW!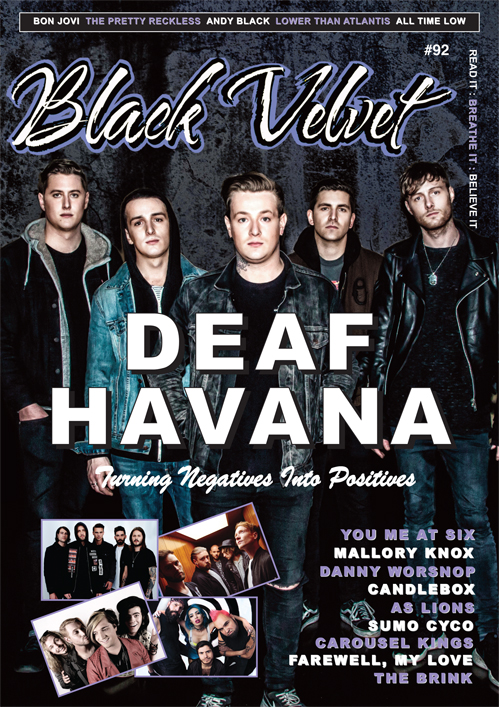 Issue 92 of Black Velvet is online now.
Click the above cover to read the digital issue in full for free.
Enjoy!
Black Velvet 92 includes:

Interviews with Deaf Havana, You Me At Six, Mallory Knox, Danny Worsnop, Candlebox, As Lions, Sumo Cyco, Carousel Kings, Farewell, My Love and The Brink.

Concert reviews of Bon Jovi, Andy Black, All Time Low, Lower Than Atlantis, Black Star Riders, State Champs, The Pretty Reckless, Bonafide, Deaf Havana and more.

Column by Richie Hudson & Robin Guy of The Fiascos.

Album and EP reviews of Deaf Havana, Mallory Knox, You Me At Six, Lower Than Atlantis, Bonafide, Devilskin, Tequila Mockingbyrd, Carousel Kings, As Lions, Shallow Side, Hellbound Hearts, Beth Blade And The Beautiful Disasters, William Control, High Tides, AFI, The Wild! and more.

DVD Reviews, Fansite Focus, BV CV and more.
Subscribe to Black Velvet on YouTube at www.youtube.com/blackvelvetmagazine
Below are a few of our interview clips on video.
Watch more on the Interviews page