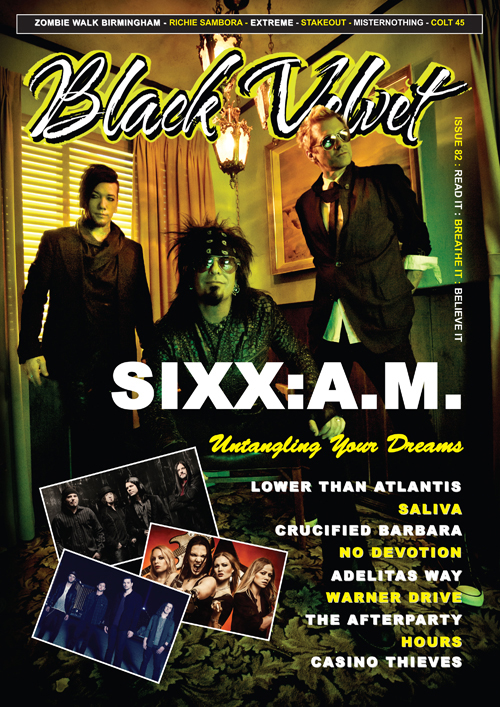 The first ever free, online issue of Black Velvet is here!
After 20 years of being a printed rock magazine, we can now bring you the first official free digital issue.
Click the above cover to read.
Enjoy!
Black Velvet 82 includes:

Interviews with Sixx:A.M., Lower Than Atlantis, Saliva, Adelitas Way, Crucified Barbara, No Devotion, Warner Drive, The Afterparty, Hours and Casino Thieves.

Concert reviews of Richie Sambora, Extreme, Lower Than Atlantis, StakeOut and MisterNothing.

2 page photo feature/collage on Birmingham Zombie Walk.

Column by Adam Lewis of Colt 45.

Album reviews of Sixx:A.M., Crucified Barbara, States And Empires, Alice Cooper, Yellowcard, Warner Drive, Mike TV, Lost Gravity, Flyleaf, Me Vs Hero, Tracii Guns League Of Gentlemen and more.

Fansite Focus, BV CV, Supersonic Future Superstars and more.
Subscribe to Black Velvet on YouTube at www.youtube.com/blackvelvetmagazine
Below are a few of our interview clips on video.